I took part in a three-day course, Agile Transformational Leader with Michael K Spayd and Michele Madore in April 2018. As a result of that, I have acquired "ICAgile Certified Professional – Agility in the Enterprise (ICP-ENT)" certificate from IC-Agile. This indicates the level of knowledge I acquired and presented about Agility at the Enterprise level.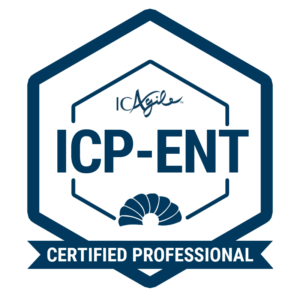 Overview
The ICP-ENT is the first of two certifications on the Enterprise Agile Coaching Track. This certification focuses on developing an understanding of agility at the enterprise level from structural, process, leadership, and cultural perspectives.
The learning objectives include topics such as systems and complexity theory, measuring business performance from an agile perspective, agile frameworks for enterprise scaling, awareness of organizational design and structure, understanding leadership development, and engaging leadership in conversations about organizational culture.
As an advanced path, most courses in Enterprise Agile Coaching involve a combination of classroom learning and ongoing group discussions around practical experience in the field.
Learning Objectives
Understanding the Whole Value Stream

Understanding Systems and Complexity Theory
Lean Underpinnings & Mindset

Business Agility

Understanding Business Agility
Extending Agility to the Enterprise
Measuring Business Performance with Agility in Mind

Organization Design and Structure

Awareness of Organizational Structure
Adaptive Principles and Patterns for Organizational Design
Agile Frameworks for Enterprise Scaling

Organizational Processes and Improvement

Understanding Business Processes and their Impact
Agile Business Process Improvement

Working with Leaders

Understanding and Working with Executive Teams
Understanding Executive Coaching vs Advising

Understanding Leadership Development

Organizational Culture and Alignment
Understanding Organizational Culture
Engaging Leadership in Conversation about Culture

Developing an Agile Team Culture

Health and Sustainability of Agile Teams and Agile Processes
Enabling Technical Craftsmanship in the Team Culture
Application: Integrating Leadership, Culture, and Teams
Target Audience
Relevant roles include enterprise, program and team-level Agile Coaches, Agile Team Facilitators, or anyone aspiring to these roles. Also, anyone with a strong background in change management and/or organizational design and a curiosity about agile approaches at the enterprise-level will benefit from this certification.