I ran a coaching program at Points. This mini-coaching program, which I called it Simple Coaching Program was mainly designed for Scrum Masters. However, Scrum Master Managers, Development Leads, and Project Managers joined the program as well.
The Simple Coaching Program consisted of the following topics:
Coaching (Simple Coaching Model)
Conflict and how we deal with it
Active Listening
Powerful Questions
Feedback
I chose above topics as I believe they are the top differentiator between a being good Scum Master and a great one.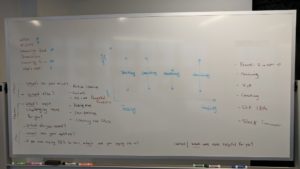 The Coaching Session – At Points
Would you be interested in a similar program to elevate you, your colleagues, or your employees? Do you want to learn more about it? Please
let me know
and I'll be happy to answer your questions or discuss details with you.